Save 46.0% on select products from Chefast with promo code 46LN8G7A, through 4/8 while supplies last.
Save 80.0% on select products from LOVINLAND with promo code 80K91TLS, through 4/8 while supplies last.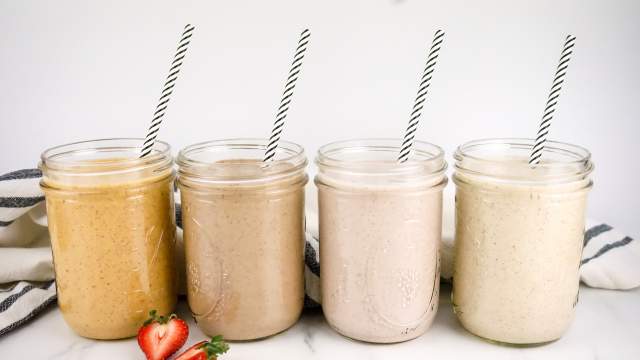 Today's post is brought to you by our friends at Born Sweet Zing™ Organic Stevia Sweetener – Zero Calories but all opinions are 100% mine.
When it comes to New Year's resolutions, I feel like there is a mile long list of things I would love to change. In an ideal world, I would work out more, use my phone less, eat more veggies, meditate … you get the idea. But year after year of swearing this will be the year everything changes, I don't succeed. Basically, I am just setting myself up for failure. That's why this year, I am trying something new!
Instead of making a hundred resolutions, I am going to commit to making some small changes to my routine that will help set me up for success. For me, that means starting first thing in the morning.
I don't know about you, but my morning sets the tone for the rest for my day. If I start out my day out on the right foot, then my whole day goes more smoothly. A breakfast made with real ingredients leads to healthier choices all day. A few minutes of tech-free time to focus on gratitude change the way I approach challenges. Working out gives me more energy and always makes me feel more productive.
So this year I am getting out of my morning rut (i.e. hitting snooze at least 3 times and spending my first waking moments scrolling through social media), and jumping into something new. A fresh, energizing morning routine packed with nutritious food, happy brain space, some movement, and an earlier wake up time. Don't worry, not too much earlier.
1. Waking Up 30 Minutes Earlier:
With two children under two, I rarely get a moment to myself. Reflecting on the past few months, I came to realize that whenever I would randomly get up before them, we would all have a more relaxed, peaceful day. So now it's time to start doing that on purpose.
My ridiculous, effective strategy: Putting my phone across the room so that I have to get up and physically walk across the room to turn it off. Not only will this guarantee I get up, it will also ensure I don't spend hours in bed scrolling through social media before getting some zzzz's.
2. Start the Day with Apple Cider Vinegar:
I have been reading about the benefits of apple cider vinegar for years, and am finally jumping on the bandwagon. Not only is it supposed to lead to better digestion, more energy and more luminous skin, I've also heard it may lower blood sugar. I plan on mixing 1-2 tablespoons of apple cider vinegar with 1 cup of water, 1/4 cup of natural fruit juice, and a packet of Born Sweet Zing™ Organic Stevia Sweetener – Zero Calories to cut the vinegar flavor.
Since I am trying to incorporate more real foods in the morning, Born Sweet Zing™ Organic Stevia is the perfect option. It's a product I feel good about since it is a plant based sweetener with zero calories and no bitter aftertaste. It adds a delicious sweetness to virtually any recipe without the calories. I use it in this apple cider vinegar drink, my morning coffee, smoothies, oatmeal and even savory recipes.
3. Energize my mind OR body:
As much as I would love to find time to exercise every morning and take time to meditate or reflect, it's just not going to happen. Instead of setting myself up to fail, this year I am going to use my extra thirty minutes in the morning to either energize my body or mind.
Related Posts